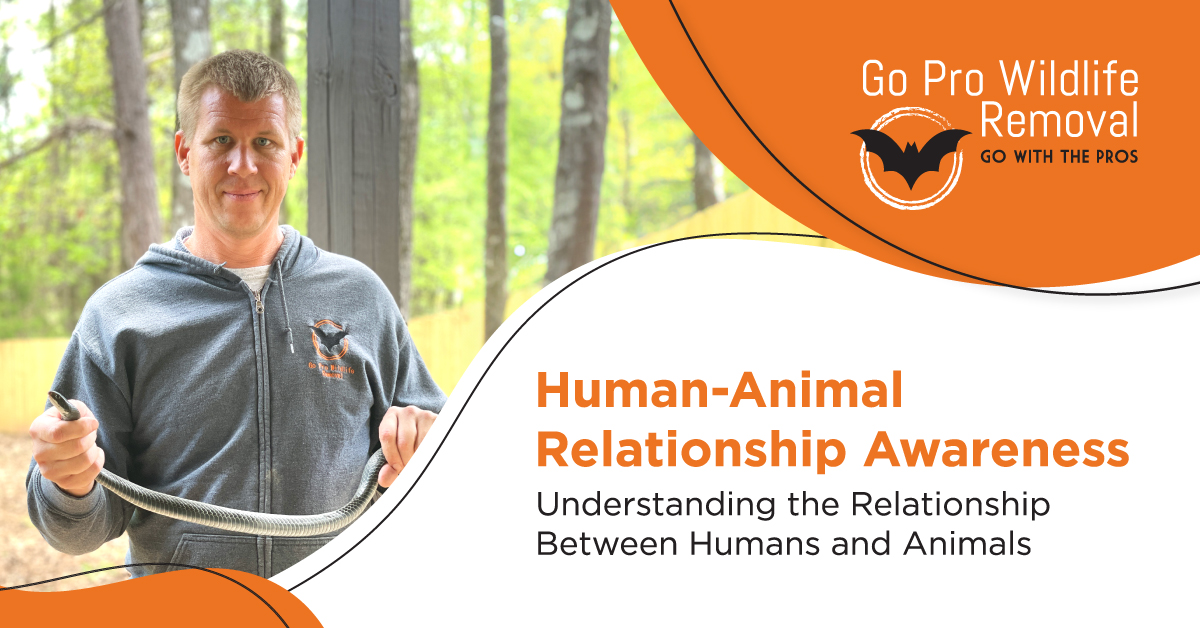 Human-Animal Relationship Awareness Week is acknowledged during the second week of November each year. Go Pro Wildlife Removal believes it is necessary to understand the relationship between humans and animals when making decisions and offering solutions to our customers. Some wildlife species, often referred to as nuisance wildlife, serve as beneficial factors in our environment, and it is important to protect them.
In a previous blog, Bridging The Gap: Human-Animal Relationship Awareness Week 2022, the importance of removing nuisance animals such as bats, raccoons, squirrels and snakes in a non-lethal manner is discussed. It is important to be reminded of the positive impact these creatures have on our environment. The following list highlights their main role in the environment:
Bats
Assist in pollination and seed dispersal which helps new plants grow. They are also the sole pollinator of the agave plant which is the main ingredient in tequila.
Raccoons
Eat wasp larvae which prevent them from colonizing and killing bees. By protecting bees, raccoons help plants thrive.
Squirrels
Are nicknamed "nature's gardeners" because they love to take seeds and bury them in other places. This generates forest composition by expanding and changing the trees that grow in that area.
Snakes
Keep the population of their prey down which can benefit humans. Rodents that transmit diseases, poisonous toads and spiders are all kept at bay because of snakes.
Deciding the best course of action
Go Pro Wildlife Removals' approach to nuisance wildlife is based on finding environmentally and ethically sound solutions while providing long-term relief for home and business owners. While it is important that animals are handled with care, we understand the importance of finding solutions that satisfy our clients.
We offer a free, comprehensive inspection of the property to decide which of our removal tactics is best for each specific customer and their situation. We strive to implement non-lethal removal solutions. An example of this is a removal tactic for bats where a cone-like structure is installed allowing the bats to naturally filter out of the occupied space.
Once wildlife has been removed Go Pro Wildlife Removal offers many non-lethal exclusion options. Some of the most used exclusion options include chimney caps, exclusion wire for decks and ridge cap preventions.
Positive relationships with nuisance wildlife may feel overwhelming, especially when they are occupying space in your home or business. It is important to understand that most often humans are the intruders, so we must be able to co-exist with wildlife and if they enter our homes or businesses remove them in a safe, ethical manner.
Related Stories:
Contact Info
Service Areas: Contact Go Pro today! We offer wildlife removal solutions in Auburn, Opelika, Lake Martin, Valley, Montgomery, AL and Columbus, GA areas.
Phone: (334) 744-0391
Hours: Open 9:00 am – 5:00 pm