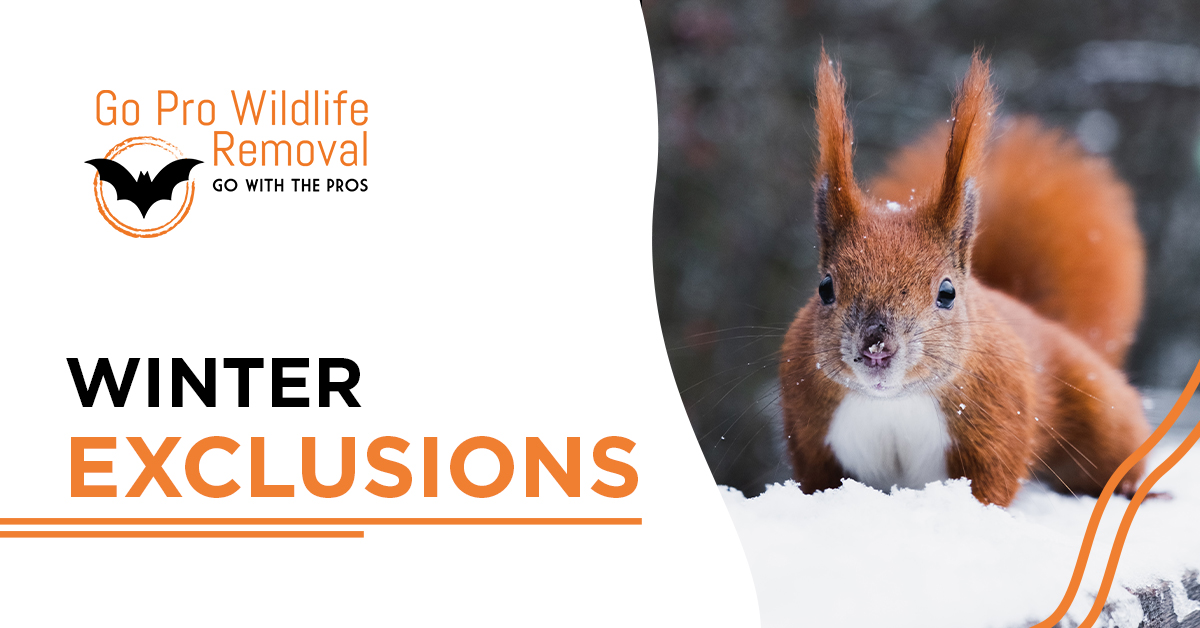 Though the holidays are over, and the new year has begun, the winter season is still in full force. During these cold months wildlife looks for places to be comfy and cozy and will sometimes choose homes as their safe haven.
Even in the southern winter, squirrels, rats and mice are searching for indoor spaces to protect themselves from the elements. It is important to check common wildlife entry points for any animals that may be seeking shelter in your home. There are steps you can take to prevent wildlife entry before it happens. The most common routes for wildlife to take into your home are through bathroom vents, dryer vents, gable vents, chimney caps and windows. Wildlife can also be found between the house and chimney, or in a home's eaves or molding.
Cost-Effective Exclusion
An ethical and cost-effective way to ensure that wildlife chooses somewhere else to keep warm is through GoPro Wildlife Removal's exclusion services. Exclusions are ethical, cost-effective measures that can be taken to prevent entry of wildlife in the first place. We offer many types of exclusions including chimney cap installation and sealing, attic vent and fan covers, dryer vent covers and more.
When it comes to wildlife exclusion, it's best to be prepared. Your home is one of the most significant investments you can make. Keeping that investment safe and protected is always a concern, which is why wildlife exclusion is critical for preventing damages.
GoPro wildlife understands that you want a quick but long-term solution for wildlife prevention this season, and all year round. Our approach is based on finding an environmentally and ethically sound solution while providing long-term relief from wildlife issues.
Go Pro Wildlife Removal is an experienced and knowledgeable team ready to help with the identification or removal of  unwanted guests. We have the necessary tools and resources to protect your home and implement  control or exclusion options. To learn more about services or request an inspection, give us a call at (334) 744-0391.
Contact Info
Service Areas: Contact Go Pro today! We offer wildlife removal solutions in Auburn, Opelika, Lake Martin, Valley, Montgomery, AL and Columbus, GA areas.
Phone: (334) 744-0391
Hours: Open 9:00 am – 5:00 pm