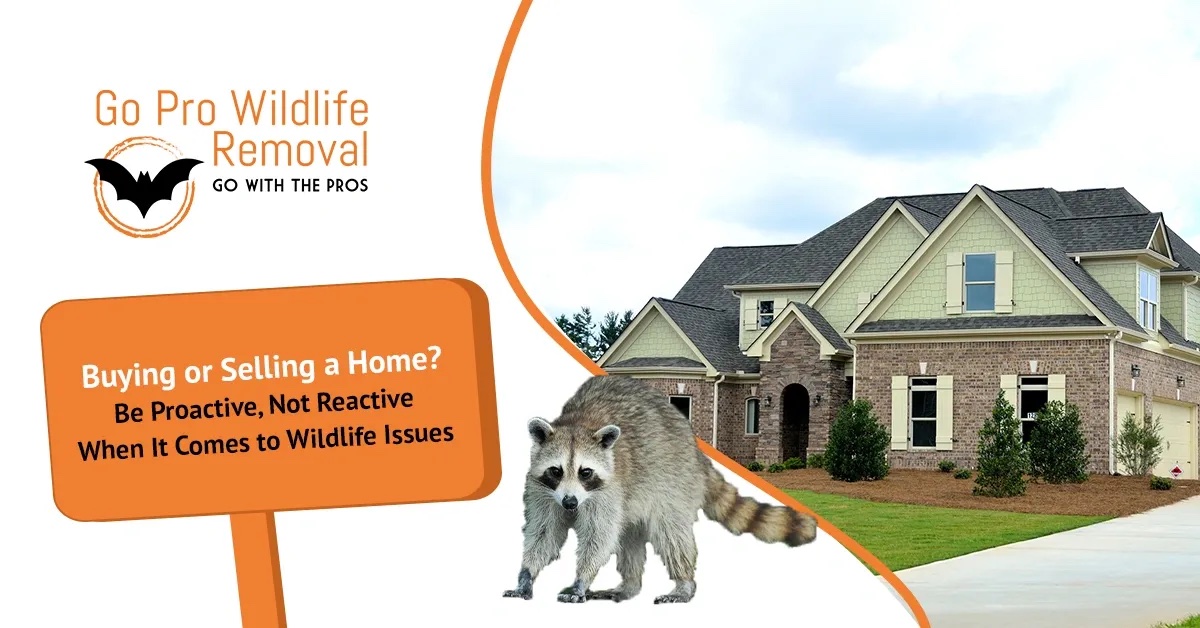 As the real estate market continues to boom, it's important to consider a wildlife inspection as part of your home's buying and selling experience. 
A last-minute discovery of wildlife problems in or around your current or future home can result in expensive repairs and exclusion treatments and could even delay the entire buying and selling process. The buying and selling process is stressful enough – being proactive about wildlife concerns can alleviate some stress and allow for a smoother moving process. 
What to Know About Wildlife Removal as a Seller
Selling your home is quite the tedious process. It's important to make sure your home is in a condition that it will pass inspections – both the traditional home inspection and a wildlife inspection.  
Although home inspectors check very crucial elements of a home, they fail to pay attention to the tiny cracks and crevices where rodents can enter. Looking for local wildlife is also not part of a home inspector's checklist. Raccoons, bats, squirrels, rats and snakes are all known for causing problems in and around a home. As a seller, you are responsible for ensuring these issues are addressed and fixed for the future owner. 
It's a good idea for a seller to consult with a professional wildlife removal expert to inspect the home before it goes on the market, to avoid any surprises down the road when the purchase of the home is on the line. 
Does the Buyer or Seller Need to Be at The Home Inspection?
While it's certainly not required for the homebuyer to be present at the time of the home inspection, it's not a bad idea to tag along to ensure the inspector looks at all the right things. As the future homeowner, you have the right to ask specific questions and ask for information about any aspect of the home.  
The seller doesn't necessarily have to be at the inspection. In fact, it might make the buyer nervous to point out visible issues if the seller is present. 
Signs of Wildlife to Look for When Buying a House
Moving into a new home is exciting but can be a challenging and time-consuming process. In addition to making sure the home's heating and air conditioning systems, plumbing, electrical system, insulation and structural components are up to par, conducting a wildlife inspection is another crucial step often skipped in the process.  
Wildlife can cause significant damage to a home, a human and to personal property. Squirrels, mice, rats and raccoons can chew through electrical wires (inside the home and inside your vehicle), cause damage to insulation, leave unpleasant droppings and even spread diseases to your family. 
Hiring a wildlife expert for an inspection allows for a peace of mind that your future home is protected against unwanted, pesky tenants. When a wildlife inspection is completed, the client is presented with exclusion options and solutions to whatever wildlife problem the home faces, if any.  
Recognizing and addressing any wildlife issues with the seller and their realtor can result in negotiation. Informing the seller of your wildlife concerns can lower the price of the sale, or the seller may even agree to fix the problems themselves before closing.  
If you are currently going through the moving process, contact Go Pro Wildlife Removal for a free home inspection and estimate. Don't let the critters creep up on you at closing- be proactive, not reactive! 
Contact Info
Service Areas: Contact Go Pro today! We offer wildlife removal solutions in Auburn, Opelika, Lake Martin, Valley, Montgomery, AL and Columbus, GA areas.
Phone: (334) 744-0391
Hours: Open 9:00 am – 5:00 pm