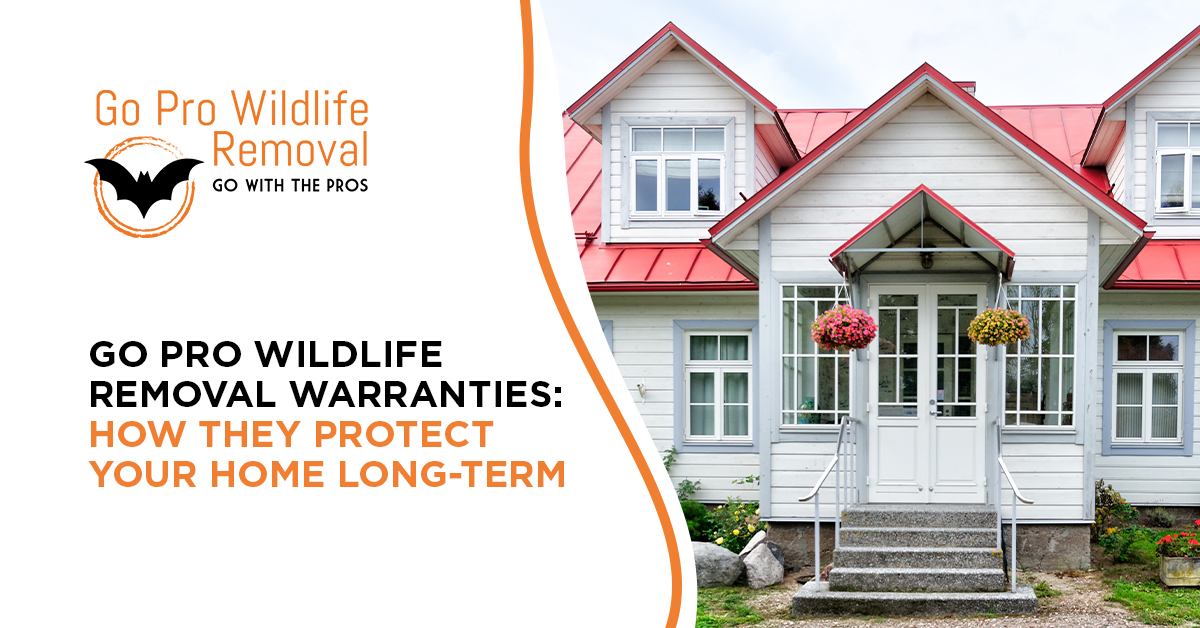 Our One-Year Exclusion Warranty Covers All Entry Points in Your Home
Your home is one of the most important investments you can make. We take great pride in our customers allowing us to help them keep it safe and protected. Go Pro Wildlife Removal offers one-year exclusion warranties that cover all entry point repairs and exclusion techniques used to protect your home or business.
How does our warranty work?
 Our warranties are specific to the target animal removed and exclusion solutions implemented and are renewable each year for a fee. Our exclusion repair often lasts longer than the warranty period; however, the condition of the structure and remodeling can affect those points of entry repairs.
 How much does it cost to renew my warranty?
The cost to renew a warranty is $250 per year. If the one year and four-month mark has passed, the cost is $350.
How do I transfer the warranty to a new owner?
Warranties can be transferred to a new owner if the property is sold within its first year of warranty coverage. To transfer the warranty to a new owner, email or call Go Pro and we will get the warranty document set up with the new homeowner.
What happens if I see or hear something after my repairs are complete?
We understand the serious dilemma when it comes to wildlife conflict and the condition of your home. Our job at Go Pro Wildlife Removal is to develop and implement a wildlife exclusion solution, execute a plan and prevent damage to your home in the future. Our approach is based on finding an environmentally and ethically sound solution while providing long-term relief from wildlife issues, and long-term home protection and preservation. As with any solution or repair, there could be an instance where you feel the problem as returned. Just give us a call or send us an email and the Go Pro Wildlife team will be return, complete an inspection and identify any issues.
Go Pro Wildlife Removal is an experienced and knowledgeable team ready to help with the identification or removal of  unwanted guests. We have the necessary tools and resources to protect your home and implement control or exclusion options. To learn more about services or request an inspection, give us a call at (334) 744-0391.
Contact Info
Service Areas: Contact Go Pro today! We offer wildlife removal solutions in Auburn, Opelika, Lake Martin, Valley, Montgomery, AL and Columbus, GA areas.
Phone: (334) 744-0391
Hours: Open 9:00 am – 5:00 pm