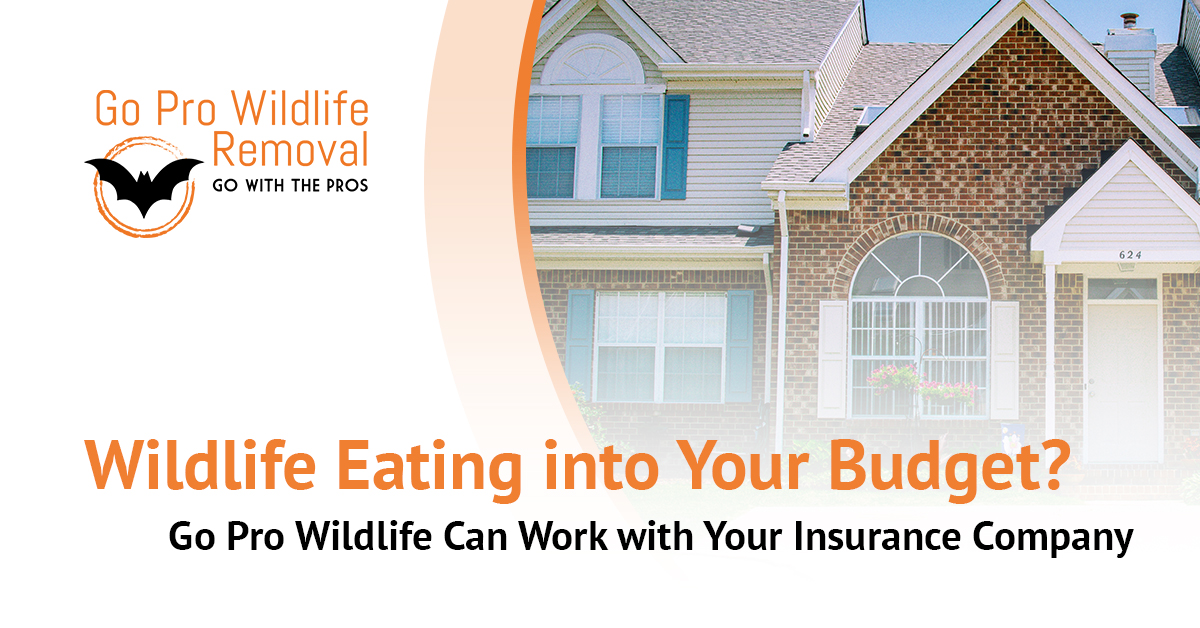 Your home is your haven; your little corner to gather with your loved ones and provide a safe space away from the hustle and bustle of the world around you. It's important that you work diligently to ensure nothing damages or causes destruction to your home. Although you do your best to plan and budget home expenses, sometimes unexpected expenses sneak up on you. Wildlife conflicts typically come without notice, giving little time to anticipate the financial impact they may cause.
Fortunately, wildlife damage may be covered under your home's insurance policy. Here's what you need to know about working with your insurance company if your home experiences wildlife damages and how Go Pro Wildlife Removal can help you file your claim.
How Do You Know if Your Homeowner's Policy Covers Wildlife Damage?
Once your home has been inspected by Go Pro Wildlife Removal, call your homeowner's insurance company to inquire about submitting a claim due to damage caused by the wildlife. Some wildlife damages such as rodent damage, raccoon damage and squirrel damage may not be covered, so it's important that you communicate the exact issue, damage and potential loss, with your insurance provider. Go Pro Wildlife Removal is also available to help communicate the type and extent of damage on your behalf, to your insurance company.
What Does Go Pro Wildlife Removal Provide to Help with Claim Preparation?
If significant damage has been done to your home, it can often be a grueling, time-consuming process, talking with your insurance company to work out the bumps and bruises of the claims process. In the incidence of wildlife damage, Go Pro Wildlife Removal will provide your insurance company with a full inspection report and scope of work needed to repair the damage to your home. In addition, we can provide your company with images to help assist in damage documentation and aid in damage repair estimates for accurate loss assessment.
How Do Deductibles Work with Wildlife Damage?
Homeowners are responsible for paying their deductible if they decide to file a claim with their insurance company. Typically, deductibles, because of wildlife damage, range from $500 to $2,000. Depending on the type of damage and the scope of work needed to repair damage versus the deductible cost, the homeowner can determine if they want to file a claim.
 Go Pro Will Work with Your Insurance Company to Help Address Damages and Repair Costs Due to Wildlife Conflict
Go Pro Wildlife Removal is experienced in working with homeowners and insurance companies due to damages caused by nuisance wildlife entry. If your home has been damaged because of wildlife entry, or you are currently experiencing a wildlife issue, we can work with you to address claims with your insurance company. We're here to help you through every step of the wildlife removal and exclusion process. We have the necessary tools and resources to protect your home and implement  exclusion options. To learn more about services or request an inspection, give us a call at (334) 744-0391.
Contact Info
Service Areas: Contact Go Pro today! We offer wildlife removal solutions in Auburn, Opelika, Lake Martin, Valley, Montgomery, AL and Columbus, GA areas.
Phone: (334) 744-0391
Hours: Open 9:00 am – 5:00 pm