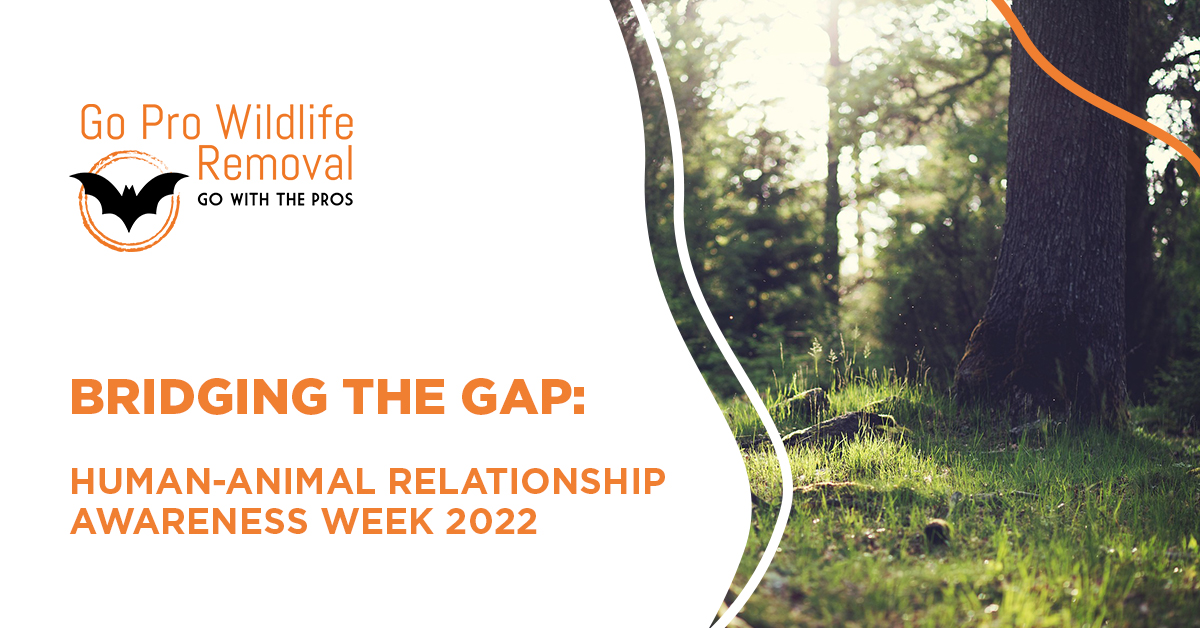 Human-Animal Relationship Awareness Week was created by the Institute of Animals and Society to highlight the connection between humans and animals and to promote a more positive attitude towards the well-being of animals. Positive connections and interactions with animals can decrease stress hormones and increase positive emotions in humans. However, negative interactions can drastically impact how humans view animals and affect how they respond during future interactions.
No matter if you live in the city, suburbs or out in the country, you will always encounter animals. Go Pro Wildlife understands the importance of wildlife and the role that each animal plays in our environment. Our goal is to limit the number of negative interactions between humans and animals by providing exclusion options that keep humans and animals safe.
Our Experience   
The owners of Go Pro Wildlife Removal, Chris and Stephanie Kadletz, have operated with the goal of bridging the gap between humans and wildlife from the start of their careers. Since 2004, they have worked to resolve human-wildlife conflicts. Chris has a degree in Animal Science and is the only member of the National Wildlife Control Operations Association (NWCOA) in the Auburn/Opelika, Alabama area. He uses his knowledge to educate the public, find permanent solutions to wildlife removal and continue researching the best removal methods. Stephanie has a degree in Animal Science and is a member of the National Wildlife Rehabilitators Association (NWRA) and the International Wildlife Rehabilitation Council (IWRC). She has spoken at numerous wildlife rehabilitation conferences at the state and national levels. She has dedicated her career to animal education and rehabilitation.
It is important to both owners that people understand Go Pro Wildlife Removal is vastly different from a pest control company. Pest control includes more passive approaches to solving wildlife issues like lethal insecticides and rodenticides. Wildlife removal is a more comprehensive process that starts by breaking down the problem step-by-step. When a customer calls Go Pro Wildlife, the team focuses on identifying the entry points and utilizing non-lethal techniques to help customers gain long-term relief from nuisance wildlife.
Why are Non-Lethal Exclusion Options Important?    
When you notice wildlife living near or in your home or business, it is common to want to get rid of the animal at any cost. Animals deemed a nuisance like bats, snakes or raccoons can be frightening and often have a bad reputation. These negative connotations make humans fearful and quick to react when they encounter the animal. Although these animals can be dangerous to humans due to disease and home damage, most likely they are only looking for shelter and have no malicious intent.
All animals serve a purpose, even nuisance wildlife. If you find these animals in your home, it is essential that you call a professional to ensure your safety and the safety of the animal. Without wildlife, our world would look very different. The following list highlights the most common animals that we encounter at Go Pro Wildlife Removal and their main role in the environment:
Bats assist in pollination and seed dispersal which helps new plants grow. They are also the sole pollinator of the agave plant which is the main ingredient in tequila.
Raccoons eat wasp larvae which prevent them from colonizing and killing bees. By protecting bees, raccoons help plants thrive.
Squirrels are nicknamed "natures gardeners" because they love to take seeds and bury them in other places. This generates forest composition by expanding and changing the trees that grow in that area.
Snakes keep the population of their prey down which can benefit humans. Rodents that transmit diseases, poisonous toads and spiders are all kept at bay because of snakes.
Our goal at Go Pro Wildlife Removal is to find environmentally and ethically sound solutions to promote the well-being of humans and wildlife. The team at Go Pro Wildlife Removal focuses on non-lethal exclusion options to remove and prevent wildlife issues in your home or business. Dryer vent covers and replacement, attic vent covers and ridge cap prevention are just a few of the exclusion techniques we utilize to ensure long-term relief from nuisance wildlife. We also offer a one-year exclusion warranty to cover any entry point repairs and exclusion techniques. To learn more about Go Pro Wildlife Removal and our team visit the about page of our website or give us a call at 334-744-0391.
Contact Info
Service Areas: Contact Go Pro today! We offer wildlife removal solutions in Auburn, Opelika, Lake Martin, Valley, Montgomery, AL and Columbus, GA areas.
Phone: (334) 744-0391
Hours: Open 9:00 am – 5:00 pm