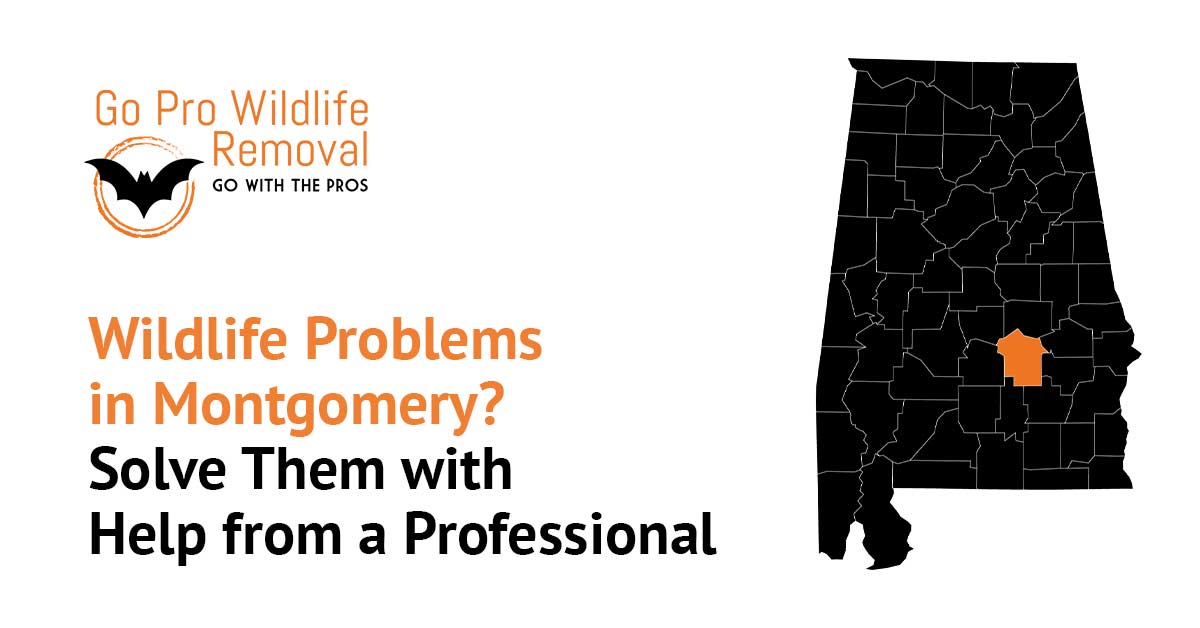 It can be difficult to predict when you might encounter a wildlife problem at your home, especially when you live in a city like Montgomery with a mild climate and surrounded by open land and forests. Many residents in the area experience issues with bats, squirrels, raccoons, snakes and more, depending on the season. 
If you notice a wildlife issue at your home, whether it be strange noises, droppings or visual proof of a critter living where it shouldn't, you should always call a professional to investigate. While DIY efforts might work when dealing with bugs and pests, wildlife removal in Montgomery is a different story.  
Why Should You Hire a Wildlife Removal Expert? 
First, safety is important. The critters taking up residence in your home may look cuddly and calm, but they are wild animals that can cause illness or injury to humans. They can become aggressive when they feel threatened. A professional has experience working with these types of animals, understands their tendencies, and are trained to protect both themselves and the animals during the removal process.  
Additionally, the average Montgomery resident would not have access to high quality, humane equipment needed for wildlife exclusion. DIY approaches to wildlife removal can inadvertently cause harm or death of the animals or could cause even more damage to the home. A professional is trained to extract wildlife with care and through humane measures whenever possible.  
Finally, proper removal of wildlife can take time depending on the animal and the extent of its inhabitance. In addition to removing the animal, a wildlife removal expert can take action to prevent its return through identifying and blocking points of entry around the home. Without fixing the root of the problem, the animal would likely make its way back into its hiding spot in your home. Plus, if damage has already been done, a wildlife removal expert will be able to make repairs to your home in addition to preventing return.  
Montgomery Wildlife Removal Company
At Go Pro Wildlife Removal, our goal is to identify and extract troublesome wildlife in the most convenient way for our Montgomery customers. We are a team of fully licensed wildlife removal professionals dedicated to servicing the Montgomery area. If wildlife chooses to take shelter in your home, the damage can be extensive to your home structure as well as your health. Don't hesitate to reach out to a professional should a wildlife issue arise. 
Give us a call today for free inspection and next steps of the removal process. 
Contact Info
Service Areas: Contact Go Pro today! We offer wildlife removal solutions in Auburn, Opelika, Lake Martin, Valley, Montgomery, AL and Columbus, GA areas.
Phone: (334) 744-0391
Hours: Open 9:00 am – 5:00 pm